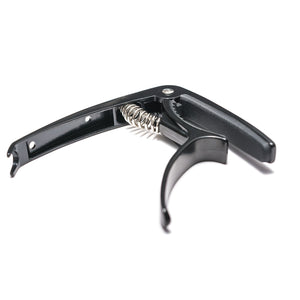 Metal Guitar Capo
Regular price $14.99 Sale
FREE worldwide shipping!
This all-metal capo for guitar will let you create consitent and reliable sound.
EASY TO MOVE AND WIDE
Super fast to change between frets without changing your playing fingering. Designed for acoustic and electric Guitars.
HIGH-QUALITY ZINC METAL MATERIAL
The surface is plated and coated with transparent paint to ensure a smooth feel and texture.
STRONG SPRING
Steel spring to provide strength and fatigue resistance. It will put just enough pressure on each string
SILICONE PAD
The delicate silicone pad does not squeak during the movement and does not damage the strings.
FOR INTERNATIONAL SHIPPING:
Fret Zealot ships worldwide! Please note that additional taxes/duties may be charged upon delivery based on your country's specific import taxes and laws. We unfortunately are not able to estimate these charges before you order due to continually changing tax rates.
RETURN POLICY AND WARRANTY:
We offer a one (1) year warranty for any manufacturing defects. If you have any issues, please email us at support@FretZealot.com and we will respond within 1 - 2 business days. You may return your Fret Zealot for a refund within 30 days as long as there is no damage.